Wednesday, 8 February 2012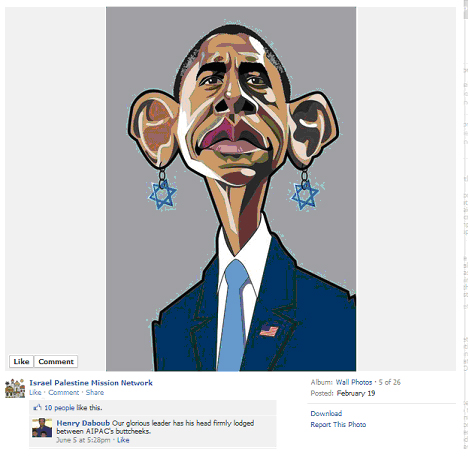 Images like this were posted on a Facebook page run by Presbyterian peacemakers.
The Jewish Council for Public Affairs (JCPA) has called on the Presbyterian Church (USA) to rein in the anti-Zionist and in some instances, anti-Jewish rhetoric proffered by its education and peacemaking organization, the Israel-Palestine Mission Network of the PC(USA). In a press release issued on Feb. 6, 2012, the JCPA, an umbrella organization of 125 local Jewish federations and 14 national Jewish organizations, called on the denomination to "take concrete actions to address the anti-Israel, anti-Zionist, and at times anti-Semitic content that has been all too common in the church's Israel Palestine Mission Network (IPMN-PCUSA)." The American Jewish Committee issued a similar statement that day as well.
The press release issued by the JCPA provides some details:
The IPMN-PCUSA Facebook page includes a cartoon of President Obama wearing weighty Jewish star earrings to suggest Jewish control of the American leaders, a common theme on the site. The IPMN-PCUSA has posted articles that accuse Jews of controlling Hollywood, the media, and American politics - and blaming Israel for the American housing and economic crisis. IPMN-PCUSA's communications chair also posted her opposition to a two-state solution and the existence of a Jewish state, something which she terms "anachronistic." The same IPMN leader, Noushin Framke, clicked "like" on the Obama cartoon with the Jewish stars and another post that Hamas should keep Israeli Gilad Shalit hostage until Palestinians are granted a right of return.
Presbyterian leaders were given multiple warnings about the problem before the JCPA went public with its concerns. Starting in 2009, CAMERA corresponded regularly with the denomination's leaders in Louisville about this problem, but they did nothing even as the IPMN-PCUSA's Facebook page became a focal point for anti-Zionist and anti-Semitic imagery and commentary. (For example, take a look at the comment beneath the Obama cartoon. Other examples can be seen here and here.)
Eventually, the JCPA started gathering a collection of the hateful postings on the IPMN's Facebook page for a report about the organization. The JCPA then started to distribute a draft version of its findings to members and leaders within the denomination, which apparently prompted the IPMN-PCUSA to delete its Facebook page.
The IPMN-PCUSA has responded badly to the JCPA's scrutiny.
Posted on 02/08/2012 4:04 PM by Dexter Van Zile
Comments
8 Feb 2012
PDK
Barack Obama is in reality an anti -Jew, false Christian, and for most a closet Islamic, for others his pro Islamic stance is obvious..
The rudeness he has displayed to Netanyahu at the WH is despicable. I was unaware of Presbyterian anti semitism, but I do know most Christians in America back Isreal and the Jewish people.
It is a shame people whom are taught their prejudices cannot see the truth of reality. It is also a shame that those raised, fully or in part to be Islamic remain hog tied loyal to the insanity that is Islam.
The Jews, IMHO, seek their prosperity at the expense of their own honest hard work. Islam seeks superiority at the expense of all others and said others happiness.
As an American, I hope that the Presbyterians, should their anti semitism be real, can search their own soul and find truth and further let that truth be their guiding light.
Further as an American, for both Americas sake and all humanity's, I hope that Barack Hussein Obama is as President one and done.
Nobama 2012, vote republican. Thank you.
9 Feb 2012
Hugh Fitzgerald
These, not peacemakers but "Peacemakers," which is a different thing, are the New Presbyterians. And that puts me in mind of an old poet who would, I hope, pardon me for lightly lifting and slightly bending one of his lines, by noting that these new Presbyters are but old antisemites writ large.
Most Recent posts at The Iconoclast